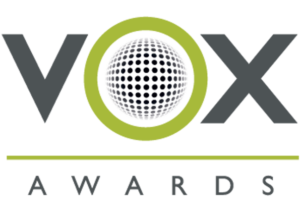 Duplicate Awards Available
Duplicate Awards (e.g., for the production companies who produced an ad for a VO Award, and vice-versa) can be purchased at £49 + P&P. If you are one of the VOX 2018 lucky winners - please contact us here
VOX Awards 2019: Categories & Nominees
"New Life Teeth" produced by Eddie McDermot
Voiced by Brian Blessed
"Holdcroft Renault" produced by Rick Loynes
Voiced by Jon Lovell and Jon Strickland
"Dead Happy" produced by Ben Morris, Tim O'Donoghue and Sarah Casserley
Voiced by Jack Oddie
"Rowland Homes" produced by Paul Day and Mark Cowan
Voiced by Mark Cowan and Rebecca Addison
WINNER: "Northumbrian Water" produced by Sharon Wrightson
Voiced by Jack Oddie
"Halloscream" produced by Karl Svenson
Voiced by Ian Swann and Pete Cousins
"Guylian Christmas" produced by Happy Hour Productions
Voiced by Leah Marks
"Tim Peake" produced by Jack Allen, Aaron Matthews and Rob Wills at Creative Fix
Voiced by Tim Peake
"Tax Assist Accountants" produced by Keith Lindsay at JMS
Voiced by Neil Didsbury
"Alpecin Shampoo" produced by Adders Jeffrey at LBS Manchester
Voiced by Andy Talbot
"Jus-Roll British Pie Week" produced by Matt Hopper, Trisonic
Voiced by Kenny Blyth
WINNER: "Black & White Whiskey" produced by Shaun Nickless
Voiced by Blanche Anderson
Best Use of Music in a Campaign
WINNER: "Signal 1 Genie" produced by Rick Loynes
Voiced by Marc Silk
"New Life Teeth" produced by Eddie McDermott
Voiced by Brian Blessed
"Dead Happy" produced by Ben Morris, Tim O'Donoghue and Sarah Casserley
Voiced by Jack Oddie
"Autobright Direct" produced by Chris Peace
Voiced by Elisa Canas, (Rapper: The Realist JDM)
"Rowland Homes" produced by Paul Day and Mark Cowan
Voiced by Mark Cowan and Rebecca Addison
"Craig David" produced by Radio Jingles
Voiced by Tim Odofin
Best Female Voice Performance
WINNER: "The Handmaids Tale" produced by Aisha Amodu
Voiced by Natalie Silverman
"Guylian Christmas" produced by Happy Hour Productions
Voiced by Leah Marks
"Schwarzkopf" produced by Marco, Frank and Guus
Voiced by Abi Phillips
"Black & White Whiskey" produced by Shaun Nickless
Voiced by Blanche Anderson
"CT Associates" produced by Danny Rhodes
Voiced by Julie-Ann Dean
"Moda Kitchens" produced by Eddie McDermott
Voiced by Joanne Lamb
Best Male Voice Performance
"Davanti" produced by Paul Griffin
Voiced by Scott Joseph
"Mr Robinson, The Amazing World of Gumball" produced by Cartoon Network
Voiced by Stefan Ashton Frank
"FX Pro" produced by Vyacheslav Syrkin
Voiced by Guy Slocombe
WINNER: "Dead Happy" produced by Helen Wilkins
Voiced by Jack Oddie
"Halloscream" produced by Karl Svenson
Voiced by Ian Swann
"Jus-Roll British Pie Week" produced by Matt Hopper
Voiced by Kenny Blyth
"The In and Out of Date Pop and Chock Shop" produced by Rick Loynes
Voiced by Ian Swann
"Dorchester Timber" produced by Simon Gardner
Voiced by Neil Didsbury
"Hydropool Hot Tubs" produced by Eddie McDermott
Voiced by Sharon Thompson, Aaron Watson and Paul Brown
"Signal 1 and Signal 2" produced by Rick Loynes
Voiced by Jon Stickland and Jon Lovell
WINNER: "Humphrey and Tilly Country Clothing" produced by Luke McPeake
Voiced by Ian Swann and Helena Breck
"Ward & Partners" produced by Danny Rhodes
Voiced by Julie-Ann Dean and Darren Altman
Best Character Performance
"The Lord of the Rings: Adventure Card Game" produced by Keith Hurley
Voiced by James Smillie
WINNER: "Mr Robinson, The Amazing World of Gumball" produced by Cartoon Network
Voiced by Stefan Ashton Frank
"Warrior Warehouse" produced by Luke McPeake
Voiced by Ian Swann
"Genie" produced by Rick Loynes
Voiced by Marc Silk
"Halloscream" produced by Karl Svenson
Voiced by Ian Swann
"The Shapeshifting Detective" produced by D'Avekki Studios
Voiced by Klemens Koehring
Best Retail/Service Message or Commercial (IVR/In Store)
WINNER: "NISA Easter Egg Promo" produced by Toby Huggins
Voiced by Darren Altman
"SPAR Instore" produced by Toby Huggins
Voiced by Ian Swann
"Asda Instore" produced by Jack Allen
Voiced by Blanche Anderson
"Co-Op Instore" produced by Jack Allen
Voiced by Bhav Parmar
"Yoda Poundland Tills" produced by Josh Raybould
Voiced by Guy Harris
"SPAR Instore" produced by Glenn Pinder
Voiced by Drew Cain
Best Imaging, S&P or Promo Voice
"Genie" produced by Rick Loynes
Voiced by Marc Silk
WINNER: "Judge Romesh" produced by Martin Graham for Dave
Voiced by Stefan Ashton Frank
"Hit 92.9 Perth" produced by Jerimiah Busniak
Voiced by Darren Altman
"Davanti" produced by Paul Griffin
Voiced by Scott Joseph
"Foute Party 2019" produced by Tim Boomsa
Voiced by Sarah Sealey
"Benny Phillips Live"
Voiced by Sara Starling
Sayer Producer of the Year
WINNER: Rick Loynes
Chris Peace
Luke McPeake
Eddie McDermott
Simon Gardner
Sharon Wrightson
How Were The VOX Awards 2019 Judged?
Firstly: Your judging panel remained a closely guarded secret until the awards ceremony. This is so that no potential 'friendship' voting could take place, and no entrants could ask industry friends or colleagues to vote for them. Suffice it to say that the judging panel comprised of a group of relevant industry professionals at the top of their game.
Secondly: All judging took place individually and with no potential to see other judges scores. This was so that no 'historical' voting could take place, where a judge's score was affected by seeing another judges high, or low score.
Thirdly: None of the other judges knew who the other judges were, and this was done to stop any 'collusion' voting, so judges couldn't rig votes, nor discuss nominees with other judges.
Why are we judging like this? Awards are only worth something if they are earned by their merits and have no possibility of corruption. We have provided a fair judging platform which will allow the VOX Awards to be without question - and will show you how the awards were judged on the night!